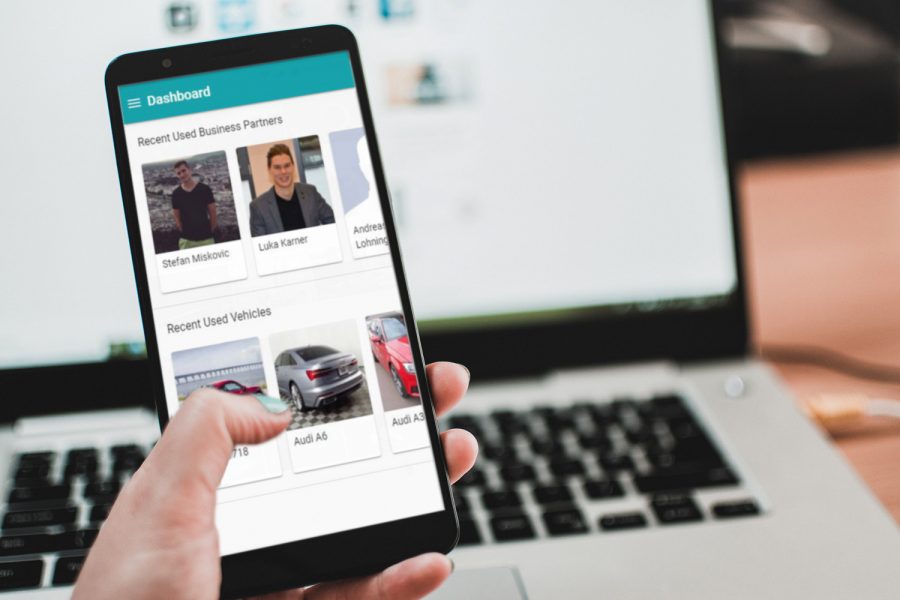 School-leaving certificate with practical experience
A graduation project at Porsche Informatik
Theoretical knowledge is great, but how can it be implemented in practice? Pupils and students have the opportunity to write their final thesis at Porsche Informatik – and in any department at our company. Excellent infrastructure, the right resources and intensive support provide the perfect environment for this.
Three school-leaving certificate students, Luka Karner, Andreas Lohninger and Stefan Miskovic from HTL Saalfelden, are currently availing themselves of this opportunity to gain a significant amount of practical experience. Within the framework of their graduation project, from October 2019 to February 2020, they will be developing the application "GoCarD! – Car Dealer To Go!", a smartphone-based web application for the system support of car dealerships.
Now taking care of the third graduation project at Porsche Informatik, our colleagues Raphael Schnückel and Dieter Schrottshammer will be responsible for providing the students with all the support they need. On their own initiative, they will be supporting the HTL students as they prepare their final thesis. The two previous projects overseen by Dieter and Raphael were truly impressive: a coding platform and CARnected, a system for interactive driving data analysis
What is "GoCarD!"?
GoCarD! uses smartphones to deal with a variety of use cases in our CROSS dealer management system. CROSS is a highly integrative system used to optimally support and deal with all processes in a car dealership. What has so far only been controlled from the desktop and on tablets, might soon also be possible on smartphones: with GoCarD!, the HTL students are developing three use cases that will be optimised specifically for smartphones:
The dashboard will provide quick access to the most recently requested business partners. The three elements of the dashboard will be: the vehicles recently opened, business partners as well as tasks and appointments. The dashboard is to be designed as a separate page, which in addition to the features mentioned above, will also include integration into the native mobile phone calendar and object character recognition for chassis number and number plate recognition.
Along with the overview, the business partner details page will provide a details page for the business partner, on which their address, appointments and vehicles will be listed.
The vehicle details page will, in turn, list all the details pertaining to a vehicle: which business partner the vehicle is associated with, vehicle technical data and a photo.
The special features of a smartphone – touch operation, small screen, camera – are to be optimally supported and exploited. In implementing this, Luka will be responsible for the requirements engineering and front-end software architecture, while Stefan will be carrying out the front-end implementation with Andreas developing the back end.
The beginning of the collaboration
Most of the projects with pupils and students arise from a summer internship with us. It was also the case with this graduation project that two of the three students had already been working with us as interns. The advantage of this is that they get to engage with the issue and plan their approach while still on the internship.
 From the idea to the project
Generally speaking, students can submit their own project proposals or choose one from an internal pool of ideas. The idea for GoCarD! came from our pool of ideas. Any project starts off with formulating ideas. With this in mind, from time to time, some of our colleagues get together to roughly sketch out ideas and attempt to use these to define a project. In doing so, they have to take into account what is actually possible within the framework of an HTL graduation project. Because unlike college students or undergraduate interns, the HTL students do not spend most of their time at our company. Consequently, they have to be able to work on their projects outside of our infrastructure.
In an excerpt, we then roughly outline two or three themes:
what it is about,
what technologies are to be deployed,
what structure the project will exhibit.
Once the candidates have decided on a topic, the details are discussed together – and then the "start signal" is given.
The support
Luka, Andreas and Stefan's independent approach to their work makes it easier for Raphael and Dieter-Michael to manage the current graduation project. With the projects being so varied, so is the scope of support. The three high school graduates will invest about 180 hours each in their project. They exchange information with their supervisors via Microsoft Teams – the central communication platform at Porsche Informatik. "The students keep us informed via video conferences or chat," explains Raphael. "Teams enables them to contact us at any time, and this allows them to avoid any long journeys."
We wish Luka, Andreas and Stefan the very best of luck and lots of fun in their work. We are already very excited about seeing the finished application!