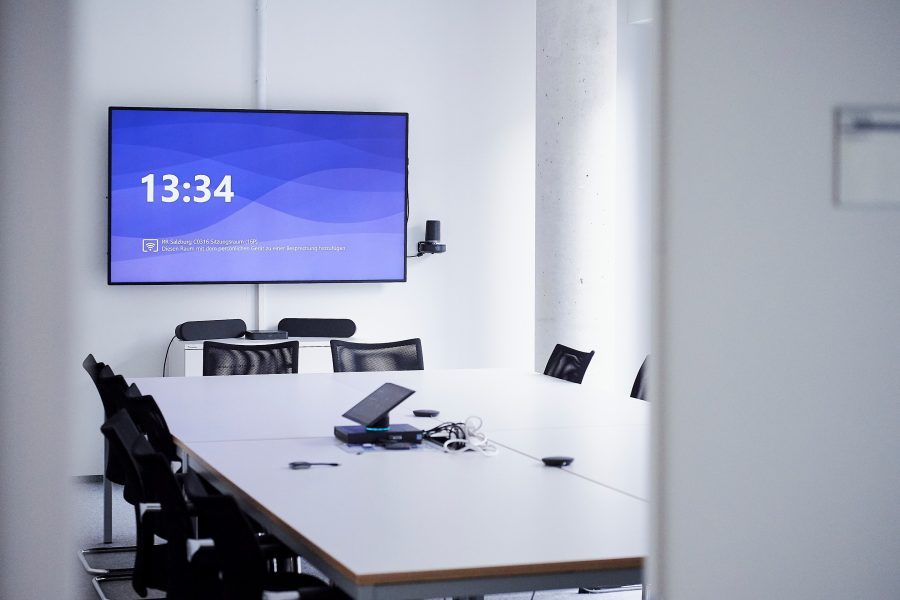 Teams Rooms systems
Hybrid working requires optimum quality when it comes to providing a good environment for meetings
Have you already found the ideal set-up for your meeting rooms? Allow us to introduce you to the solutions we are working with. Professional equipment with a special twist: smart door panels. 
The current health measures are making hybrid working, or the collaboration of teams in both mobile work and on site in the office, an increasingly important element of our professional activities. One of our most important tools in this is online meetings, and the conference rooms at the Porschehof are equipped with Teams Rooms systems that are ideal for holding such events. The systems have been assembled with a clear regard for ensuring a high level of user-friendliness.
The technical upgrades enable uncomplicated screen sharing via either HDMI cable or wirelessly by means of ClickShare, while employees can also supplement presentations with cameras, projectors and monitors. Special audio devices such as desk or ceiling microphones deliver excellent sound quality, even when meeting participants are moving freely around the room.
Smart door panels for information, booking and support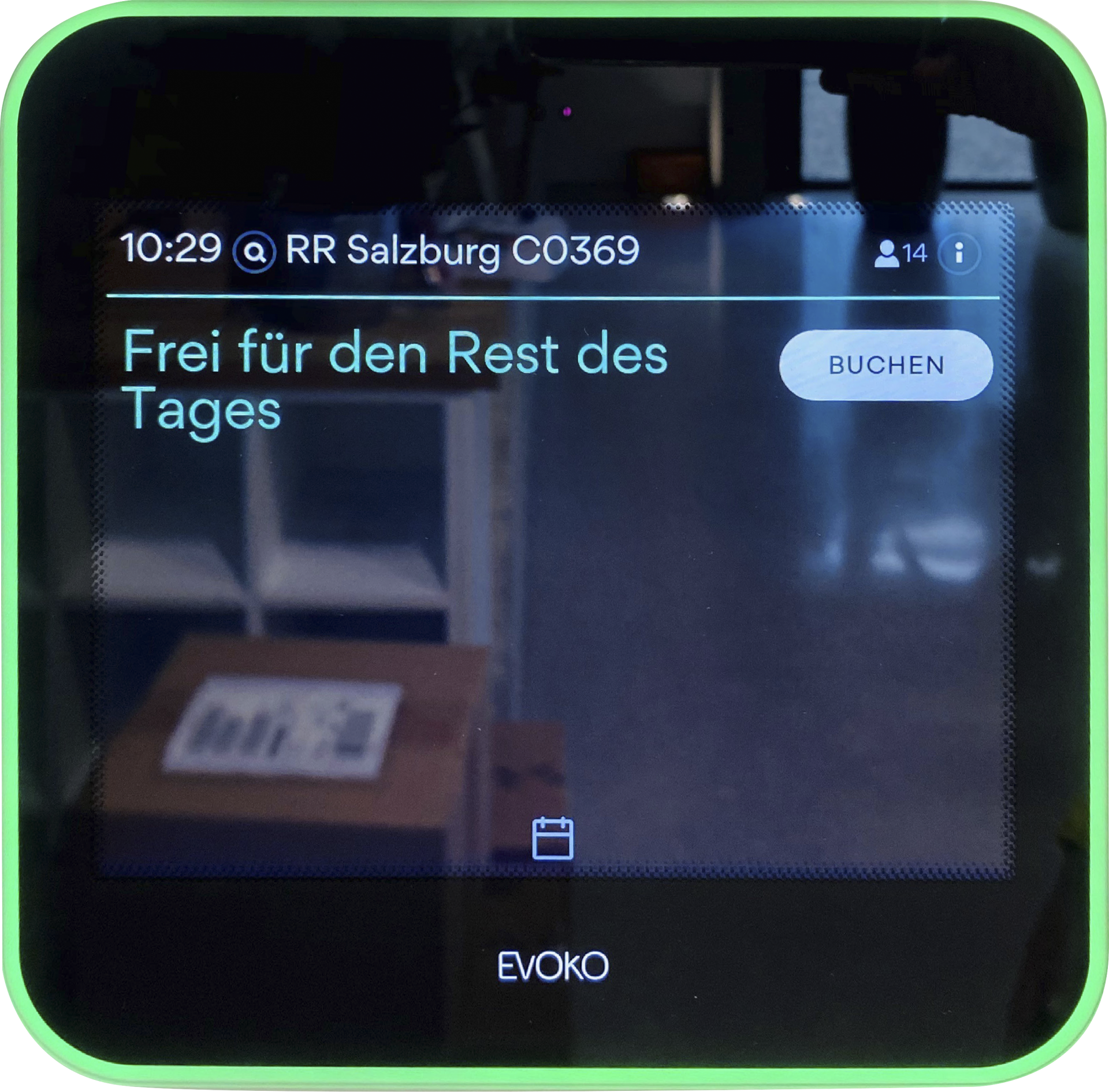 One special solution is the smart Evoko door panels we have installed outside the doors to our meeting rooms. These allow users to obtain an immediate overview of all room reservations, "in passing" as it were.
The display shows the title, organiser and duration of any planned meetings, and they even allow employees to book the room on site or to extend the current meeting. If a meeting fails to take place for any reason, the room is automatically released for booking, which is very convenient at a time when available meeting rooms are a rare commodity. In the future, we intend to incorporate our Support Centre, which will allow us to immediately report technical problems via the display.
Our solutions in detail
Our large meeting rooms (10+ people) use the Lenovo ThinkSmart Hub 500 system, which was developed specifically for Microsoft Teams. We have combined the console with a ClickShare system, projector and LCD displays.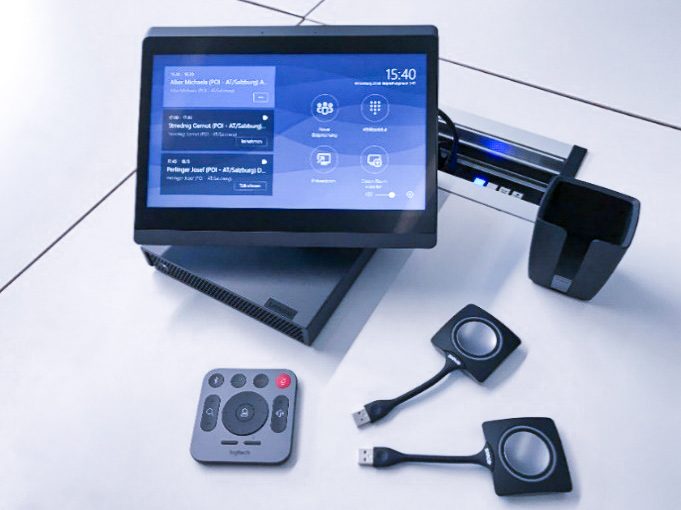 The ThinkSmart Hub 500 is a small touch screen console that sits right in the middle of our large conference tables. A quick press on the touch screen is all it takes to get things started, and because audio and video are already integrated, meetings can start without any time being wasted.
Screen sharing on a projector or display takes place wirelessly via ClickShare, and we are able to switch between virtual participants and participants in the room at any time. Thanks to all this, this set-up is also the perfect solution to acoustic problems, such as disruptive echo effects.
In our conference rooms and activity-based working zones, we use special ceiling microphones with audio-auto focus to achieve perfect acoustics. The Shure MXA910 microphones' detection range automatically adapts to whatever is going on, which maintains a constant level of sound quality, even if the speakers are leaning back in their chairs or moving around the room. And what is more, the microphones can be inconspicuously integrated into standard suspended ceilings.
Smaller meeting rooms for 6 to 8 people are equipped with Logitech equipment and additional displays.
The camera in the Logitech MeetUp System provides a 120-degree field of vision. This means that the image is captured perfectly even in smaller meeting rooms, but avoids producing a fish-eye effect. The microphone integrated into the camera has a range of four metres and provides us with reliable sound acoustics even when speaking hands-free.
We connect our notebooks to the Logitech MeetUp equipment by means of a USB cable, and we especially recommend this set-up for smaller rooms, as it is very cost-effective, especially when widely used throughout an organisation.