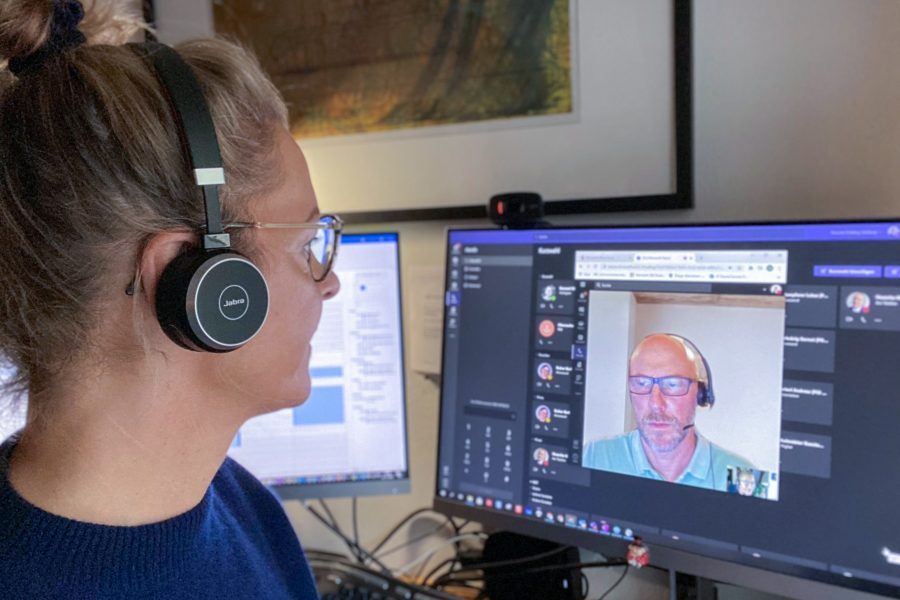 MS Teams as a communication hub – the integration of traditional telephone communication
Use of softphones at Porsche Informatik  
On behalf of Porsche Holding Salzburg, Porsche Informatik operates a Global Office 365 Tenant with around 30,000 users. As a next step in the move towards digital workplaces, all Porsche Informatik employees are currently being completely switched over to softphones integrated into Microsoft Teams.
Microsoft Teams is a communications program that covers all of our digital workplace requirements. In addition to allowing communication via chat and screen and application sharing, Microsoft Teams also provides extensive audio and video functionality.
One client for chats, meetings and telephone conversations
Thanks to Team's softphone solution, we will only need a client for real-time communication in the future, i.e. chats, meetings and telephone conversations – with the great advantage of being simply accessible by means of PC client, mobile app or web browser via the Internet; rendering entry into the Virtual Private Network unnecessary.
We have now been using the "Direct Routing" feature for about a year and a half. To do this, a Session Border Controller (SBC) provided a connection between the traditional telephone system and the Microsoft Teams cloud. Our own telephone extension is integrated into the Microsoft Teams client; meaning that, in addition to "team-internal" voice calls, we can also dial any external number and be reached via our extension as usual for external callers.
In addition to numerous other phone features, Teams also has an intelligent voice mailbox: voice messages are recorded and e-mailed to the user as audio files. In the e-mail, "speech-to-text" is used to convert the voice message into readable text. Microsoft Teams recognises the language spoken by the caller and outputs the text correctly. All voicemail functions can, of course, also be accessed via Teams itself.
Further features of telephone communication via Teams:
The availability of participants is shown in the chat status (e.g. "on the phone" or "do not disturb").
All calls are displayed in one place in the call history.
Extended options such as forwarding, call groups or parallel dialling can be set up by the users themselves.
For new employees, the solution can be configured fully automatically.
Our conclusion
Microsoft Teams already offers many options for replacing a traditional telephone system in a wide range of areas. However, as the functionality continues to grow, it is only a matter of time before further Porsche Holding telephone systems can be replaced.