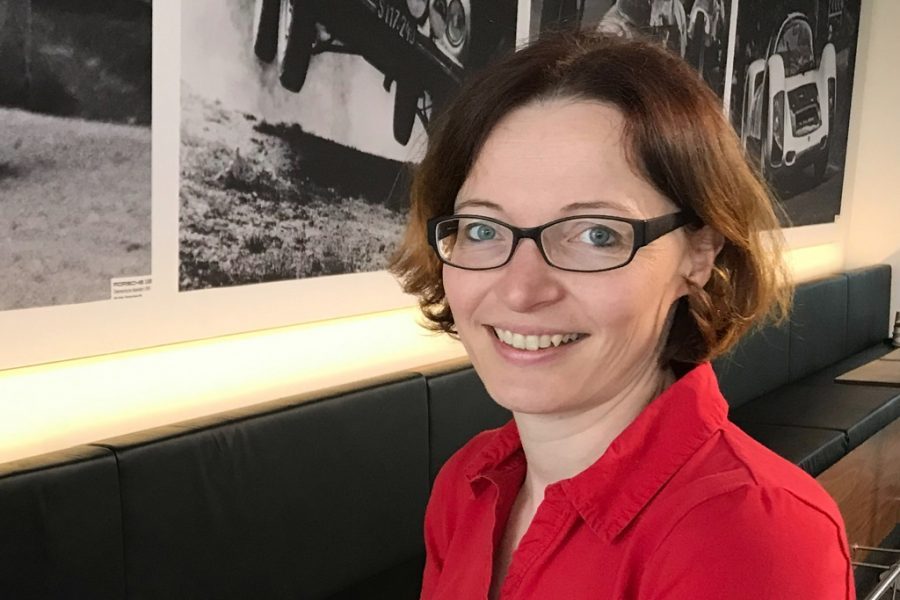 Jill of all trades
Our specialist for international project coordination and IT support
Barbara Buber is the person responsible for all the new tasks no one else is yet responsible for. Wherever there are issues that cannot be clearly defined or classified into a specific department, she's the one who springs into action. Whenever things get difficult, Barbara can be relied upon to sure-footedly step up to the plate, even in the international arena. In this interview, she talks to Michaela Alker about her career with us and what her position of responsibility involves.
Barbara, what's your current position with us?
I'm currently the point of contact for project and quality management in the area of Infrastructure and Common Platforms. In addition to this, I'm also supporting the Digital Workplace International project, which involves rolling out Office365 in more than 20 countries around the world.
How would you explain your role to an outsider?
(Laughs) That's really not that easy to answer. You could call it overarching area support. I often deal with the clarification of new topics, where it has not yet been clearly defined who is going to bear responsibility for them. These can be very different projects or requirements concerning our IT infrastructure. I recently supported the business case for the migration of the data centre of one of our international subsidiaries. Where necessary, I get on-site in the country in question.
What activities in your job do you particularly enjoy?
Generally speaking, I like organising things. Whether it's a meeting, a workshop, a project or an event. For example, I organise an annual international IT infrastructure workshop. This event is attended by all the people responsible for IT in our group companies, who use our services or whose infrastructure we maintain. This year we celebrated our tenth anniversary, something I'm very proud of.
How many countries and colleagues were at the first international IT infrastructure workshop ten years ago – and how many this time?
February 2009 brought 15 participants from ten countries. In May of this year I was able to welcome over 50 participants from 22 countries!
At Porsche Informatik, we're in an exciting phase of radical change. From your point of view, what has been the most significant change?
The most massive change for me has been the overall development of Porsche Informatik: from a small IT department, which of course is what we initially were at Porsche, to a significant international player in the world of IT. People are aware of us and we are now a trendsetter.
What also needs to be considered is the fast and strong growth of the company, the many new employees and the worldwide locations, products and services. It really is impressive to see.
What, in your opinion, is the biggest challenge in all this?
Overcoming the physical distances and maybe even geographical boundaries. Our countries are sometimes extremely far away; nevertheless, our systems have to function well on a global basis. Without a doubt, international communication is also a particular challenge and one requiring a great deal of sensitivity and understanding.
When did you actually start with us?
In 2000 as a trainee. I studied Information and Communication Technology and then came to Porsche Informatik straight after my degree.
How has your development been within the company?
I was responsible for the installation of firewalls for around five to six years, and this involved a good number of stays abroad. There was also the construction and standardisation of networks in a variety of different countries, such as Serbia, Romania, Bulgaria, Hungary, Slovenia and Croatia. I then moved to the Unix team as a Linux/Unix system administrator.
After a brief stop in the Windows division, I was appointed to the management of the Infrastructure division.
Alongside the Digital Workplace rollout project, I'm trying to fulfil my additional tasks properly. The focus is currently on the further development of our internal control system, compliance with the defined processes and participation in the Project Management Office.
And, of course, there are always issues coming up that I get to take on. It all keeps the job interesting and varied!
You are also responsible for quality management in the Infrastructure division. How does Porsche Informatik's massive growth affect quality management? What's your biggest challenge here?
We now have a much wider variety of issues to deal with than was formally the case, and, of course, a larger team as well. My personal challenge lies in exercising my function as a quality management representative alongside my other tasks, i.e. parallel to my project activities. It's important for the quality management not to get left behind and maintaining this balancing act isn't always easy.
What other goals do you have?
I'd like to continue getting to enjoy working with different cultures in international projects. It's the change of perspective that particularly interests me. One of my strengths is the role as a communication hub for international IT projects and there will surely continue to be a need for this at Porsche Informatik in the future.
Barbara, thank you for such an interesting conversation!