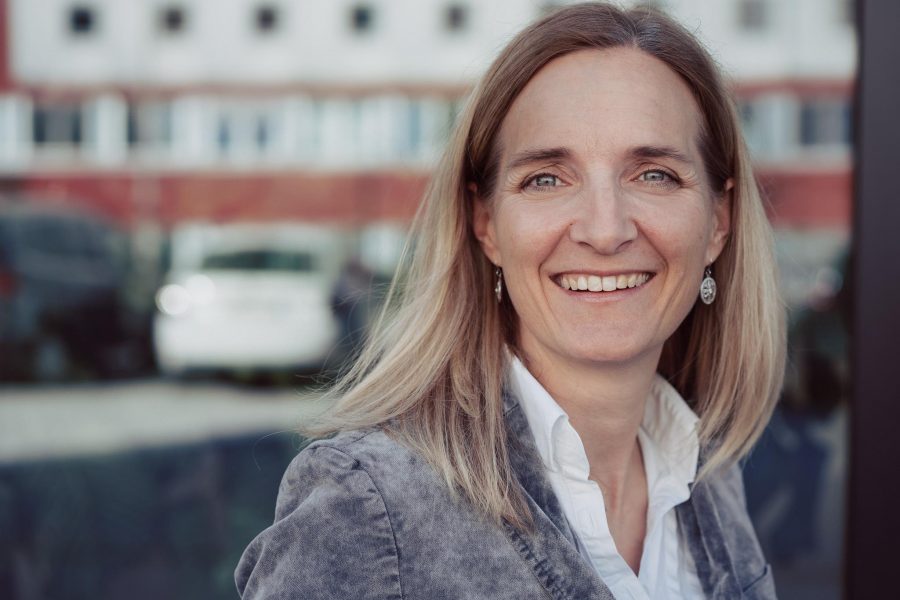 Diversity is our strength
Tapping our full potential with the help of diversity management
Eveline Breitwieser-Wunderl has been at Porsche since 2001. She started as Marketing Manager at Porsche Bank and moved to the HR department in 2012. After taking maternity leave following the birth of her twins, she returned to Porsche Bank in 2016 as a member of the Training division. In November 2018 she took up her current role as the member of staff responsible for "innovative working environments and diversity management" at Porsche Holding Salzburg (PHS). In this interview, she talks about her work, which currently involves the issues of "new work" and "diversity management" with a focus on the advancement of women.
Eveline, why does Porsche Holding Salzburg need something along the lines of a "diversity manager"?
The labour market is undergoing major change and will continue to change in the next few years. Work is coming to be perceived differently, and it will also need to be shaped differently. This means that it's important to have a division within the company to confront this strategic challenge over the next few years.
What is meant by "diversity" here at PHS?
That's best answered by quoting how it's defined at Volkswagen. "Diversity management seeks to ensure that the correct employees are deployed in the right position, at the right place and at the right time." This might all sound a bit broad in scope, but at its core it means: having an area of a company dominated by male or female employees results in a mono-culture. It has been scientifically proven, however, that heterogeneous teams work together better and produce measurably better business results. So, with this in mind, it makes sense to embrace diversity within the company and to have people with different mindsets come together. This is the big picture hidden behind this issue.
What are the specific objectives of diversity management?
As I said before, this is a strategic issue, and there is still much work to do over the next few years. Right now, we're only at the beginning.
One focal point is gender balance; that is, achieving a balance between the genders in leadership roles. For us, this means that we want to get more women into positions of responsibility or to put the necessary measures in place to this end. We want to reach out to and support future high potential staff members – male and female. As I see things, the issue of flexibility will play a central role. On the one hand, the generations coming into the company now quite naturally expect a flexible working environment. Generation Y will no longer work the way previous generations did. Flexible working hours, agile structures, mobile working, family and career compatibility – these factors are crucial for young potential staff members in terms of their choice of employer.
What does your working day currently look like?
I'd say it's diverse. No two days are alike. Right now, I'm working primarily on the "company kindergarten" project, which will open at the site here in Salzburg from August. There will be two toddlers' groups and a childcare facility.
Within PHS, I'm also responsible for the "mobile working" project – a topic coming from my area of responsibility, "innovative working environments".
And then, PHS will host the international Volkswagen Diversity Congress, which will be held here in Salzburg in September. As you see, there's always something to keep me busy.
Do you have a team?
No, I'm the sole point of contact. I'm embedded into the HR department team and get substantive support from the Diversity department in Wolfsburg. The international diversity manager there has a small team around her. They are laying the foundations for the work on diversity and providing specific objectives that will have to be achieved by means of specific measures. And I'm well networked both within and outside of the company. This is beneficial to my work.
To what extent does the PHS Management accept what you are doing? Do you get the feeling that the relevant people understand the issue?
Difficult question. The topic is perceived differently in the various divisions and gets prioritised differently as a result. There is greater acceptance where it is recognised that diversity has a measurably positive impact on the success of our company and that by increasing diversity in the company we can also increase our attractiveness as an employer; in other words, where both a benefit and a relevance are visible.
What do you make of the "glass ceiling" these days?
There most definitely is a glass ceiling, of that I'm under no illusions. In the current "Women in the Workplace Report", McKinsey reports on the so-called "one is the loneliest number" effect. This means that if an area only has one woman (e.g. in management), it will be much more difficult for her than if she worked in an environment that was more balanced in terms of gender equality. Since our own perceptions don't reflect reality and it's been scientifically proven that men prefer to employ men, it's no wonder that women are less likely to be proposed for higher positions.
Society is in a state of change; things are on the move. In the case of listed companies, there is, for example, a legal quota – especially for women on the supervisory board. Other companies commit themselves to quotas and report on these. We are all aware that a "war for talent" is being waged. And that various companies are perceived as being more sympathetic and therefore more easily access highly qualified applicants. Even if not everybody is screaming about it in the streets, it is now recognised that there is a need for appropriate action.
Where do you stand on quotas? Is it still a controversial issue?
Personally, I wouldn't want to have to feel like the "token woman"; to be in a position where nobody actually thought I could be relied upon and which I'd only got because a requirement had to be met. But I also believe that a female quota is helpful for the company. Not least because women like to hide their light under a bushel. Men are bolder, even if they are not able to do some tasks that well. Women, on the other hand, even when they are more than sufficiently qualified, often think to themselves: "I don't know if I can manage that" and don't apply for the job in the first place.
That's why I think that the quota can make a difference and why I have a positive attitude towards it. The more women who manage to get into leadership positions, the greater the chance they have of drawing in more women – that's my hope at least. And as soon as there's a certain sense of balance in the company, corporate culture will change. We'll be more attractive to the new generation of employees and will be able to get them on board. At the same time, we will also be able to offer our customers a better service, as we will reflect the market.
How do you perceive Porsche Informatik specifically regarding these issues?
I think it is noticeable that you are pushing the change to your culture and that the matter is being lived "top-down". You are in the middle of the change – as an IT company, and driven by digitalisation and the shortage of skilled employees, this is certainly noticeable significantly earlier than in other areas of the Group. I see you as being very aware of the issue. I feel that Porsche Informatik acts as a good example when it comes to proactively facing the change: in my opinion, it makes a significant difference whether you say "we know there is a lot of change coming our way, and we're ready for the challenge" or if you wait until it hurts before responding. Porsche Informatik distinguishes itself in this regard.
Diversity is clearly visible at POI: different people from different countries and cultures, and of all ages, work here. It is noticeable that you deal very openly with each other.
Where women are concerned, it is well known that they are under-represented in the "MINT" professions (editorial note: maths, ICT, natural sciences and technology in German). With this in mind, measures need to be taken as early as during education and training. Your "Girls' Day" strikes me as a positive measure.
Diversity really has more to it than just the male-female ratio. I'm thinking, for example, about age? Do you see that as being an issue at PHS?
The subject of "age-appropriate work", that is, dealing with older employees within the Group, is already under consideration and it is a defined field of action within the framework of Porsche Holding's human resources strategy.
When talking about diversity, there is one issue that has overall importance, and which I have not yet addressed: inclusion. It's not enough to just have diversity; we also have to ensure that everybody has an equal say and is able to make their contribution to the success of the company. This needs to become a natural part of our culture.
What is your personal motivation for supporting diversity within the Group?
I am personally convinced that diversity is to our advantage from a social point of view. The Canadian Government is, by the way, a perfect example of living diversity. The more diverse the committees or departments, the better their output. Firstly, because they work well together and secondly, because they reflect society or the customer structure. There are a number of examples of the errors that can occur if a company lacks diversity. And vice versa, measurably and significantly better business results from diverse companies.
As a woman and mother with over 14 years of management experience, I am also aware of the challenges and difficulties women face both professionally and privately – in reconciling family and work or career, to give just one example – and at the same time, the opportunities available to women in terms of treading their own path. It is with this in mind that I especially want to encourage and support young women.
Many thanks for this interesting conversation, Eveline. We'll continue to report on your work!