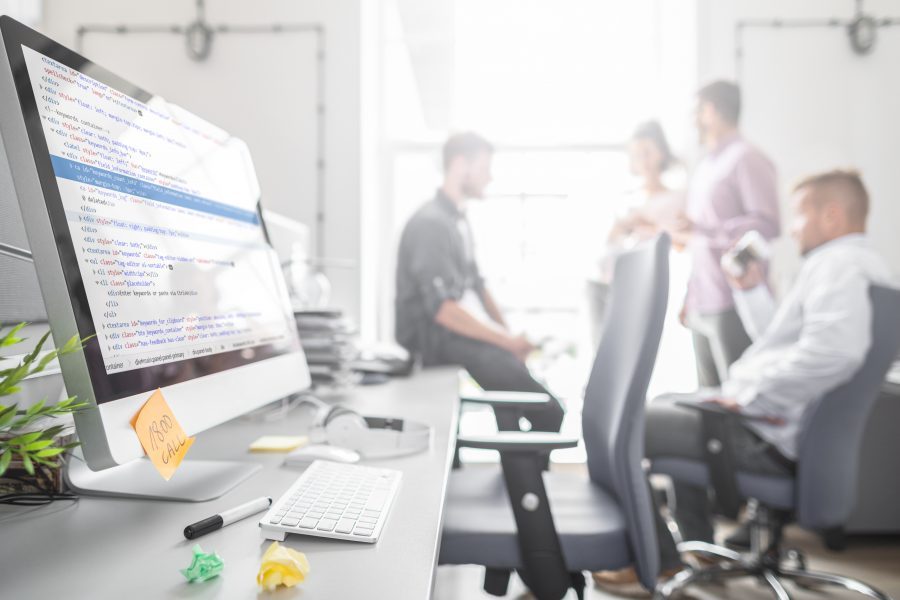 Developing programming and coding technologies. Website design. Programmer working in a software develop company office.
We are the new "Software Development Center: Retail"
VW values our know-how in the automobile trade
Porsche Informatik has been developing projects for Volkswagen for many years, especially in the areas of vehicle recycling, order management and distribution. As a "Software Development Center" (SDC), we are now an official development partner within VW's IT set-up and, as such, we are also fundamental to its IT strategy. This is a strong indication of how much trust has built up at our parent company in our competence over the last few years.

Volkswagen launched its Software Development Center concept or strategic reasons. Before that, the Group went through a phase of strong IT outsourcing. Many important applications were – and continue to be – developed by third-party companies. This results in relevant know-how for the further development of business models within the framework of digitalisation flowing out the Group.
VW therefore decided to systematically rebuild specific know-how and development resources – and this was the birth of the SDCs. VW wants to make the best use of the competencies available within the Group and for this reason, each SDC has a special technical focus. At Porsche Informatik, as part of Porsche Holding Salzburg, we have enormous process and IT knowledge in the retail sector (sales and after sales). As an "SDC Retail", we will now be able to contribute this to the entire VW organisation in the form of international and highly innovative projects.
There are currently eight SDCs in Europe (Hanover, Wolfsburg, Dresden, Berlin, Ingolstadt, Barcelona, Lisbon and the Porsche Informatik SDC in Salzburg/Vienna) as well as two in India (Pune and Delhi).
The SDC will be established as its own business unit within the Porsche Informatik organisation. We have started with the structuring and recruiting, and we are currently looking for junior and senior Java developers, as well as UX/UI designers and project managers/requirements engineers. All the information on this can be found auf der Website von Porsche Holding Careers.
We have already been very openly accepted into the family of SDCs and are excited about this collaboration with our international VW colleagues!