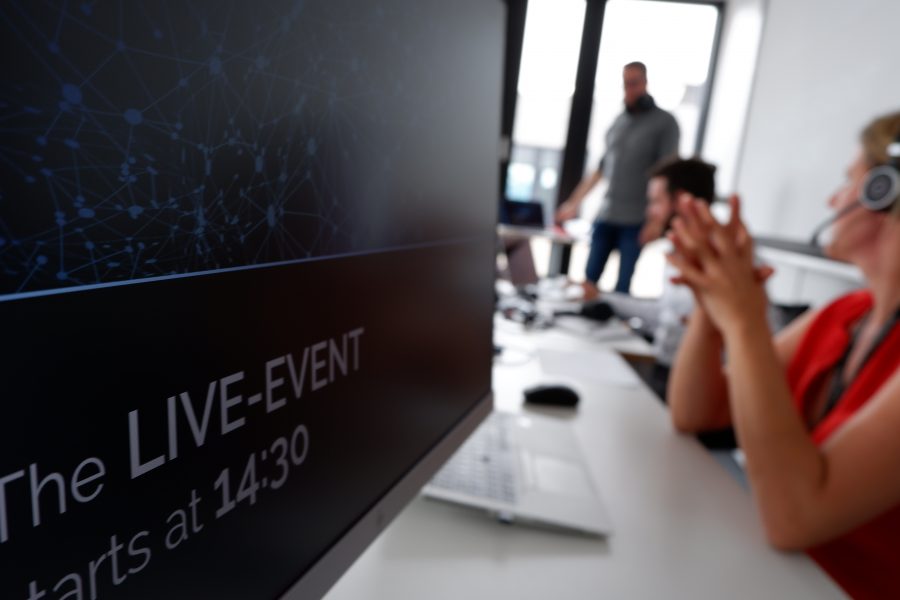 Technical tips for live streams using "Teams Live Events"
3,2,1, Live!
Live broadcasts, once the preserve of TV companies, can now be arranged very easily with MS Teams. And you don't even need complex studio technology to do this – a bit of practice and a good Internet connection are sufficient for putting on really cool events.
At Porsche Informatik, we have been using Microsoft Teams Live Events for some time and we are now making the technology available throughout the Group. In this way, all our colleagues will be able to hold transnational events, such as presentations or staff meetings, with very little effort but plenty of wow factor – and all at the lowest possible costs!
We would like to share our experiences with MS Teams Live Events to make your virtual meeting a success too.
What roles do Teams Live Events involve?
MS Teams Live Events allows for various roles. The organiser creates the live event, distributes all the roles and configures the options. Producers direct the action. They start the event itself and control the content. They can switch between speakers, videos and presentations. For large events, it is helpful for two producers to share the tasks and work to a precise director's schedule. Holding a rehearsal before the live event has also proven to be worthwhile.
Presenters are the speakers who moderate the event. They are also able to share content, such as presentations or videos. Up to ten presenters can participate in a Teams Live Event.
The attendees are provided with a passive role. For question sessions, however, it is possible to activate the chat function. In total, up to 10,000 users can watch a Teams Live Event, and a recording can be made available to anyone who misses your event.
Here are our technical tips
Audio and video quality:
Presenters should take part with either a headset or hands-free kit.
Avoid distracting background noise and "mute" all participants at the start of the live event. Presenters must then switch themselves back to "unmute" when they are up to talk.
Has a meeting room been fitted out with video equipment and made available to the presenters? Use the good audio and video quality of your existing systems! Simply invite the meeting room to the live event as an organiser, in the "Presenter" function.
Check the suitability of the room for the event for all presenters. Pay attention to details such as light, audio quality and camera angle. If the image background is unacceptable, the presenter can also display an individual Teams background image or use the blur filter.
A bit of variety makes broadcasts more interesting. This is why we use additional cameras for large events. The camera image is then simply fed into the Teams Live Event via a dongle.
Broadcast quality:
Check the Internet connection before the event and carry out a speed test for this. Restarting the router may also help.
Producers and presenters should work with LAN cables whenever possible. WiFi drop-outs can otherwise lead to transmission interruptions during the live event.
Since the Covid-19 crisis started, it has not been possible to hold any major events. As a practical alternative, we recommend online live streams using MS Teams Live Events. At Porsche Informatik, we supplement the tool with state-of-the-art Teams room systems based on Lenovo Hub and Logitech equipment. In addition, click share is fully integrated into the solution, allowing easy wireless content sharing.