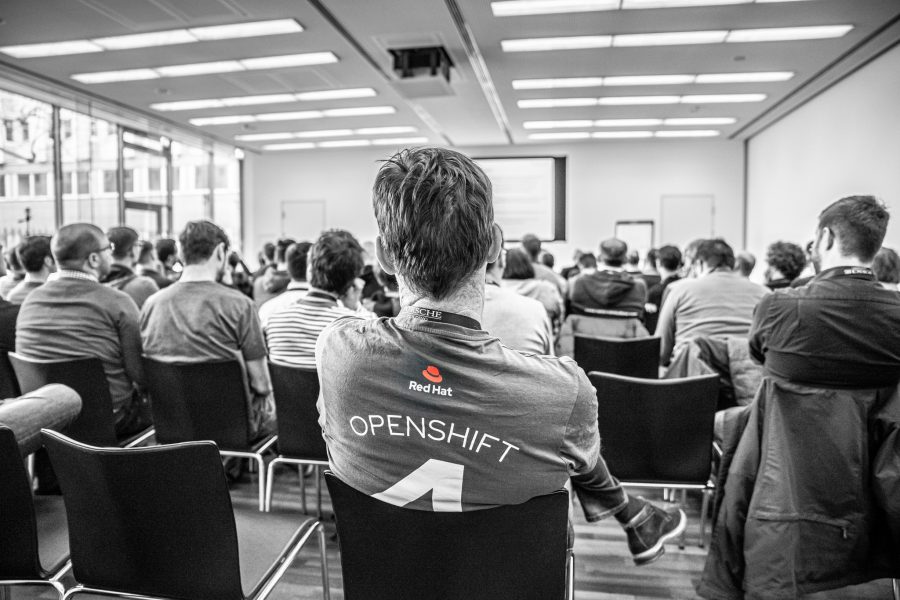 Hats off!
The OpenShift user conference came to Salzburg for the first time
This Shrove Tuesday, 100 curious experts chose a Red Hat over the traditional red nose and immersed themselves deeply in the topic of OpenShift.
The OpenShift user conference takes place four times a year – and each time a different community member organises the conference. To date, these have mainly been companies such as Deutsche Bahn, Lufthansa or Deutsche Bank, which is why the meeting has usually been held in central Germany, for example in Frankfurt. With a view to enabling better reach to the community in southern Germany and Austria, together with Red Hat, our infrastructure architect Johannes Grumböck worked flat out to organise the holding of the conference at our own premises.
Information for OpenShift rookies and experts
To start with, there was an introductory session with basic information on Kubernetes and OpenShift for beginners. This was followed by updates to the new OpenShift 4.3: What exactly is new in this version? How do you install it? What does it feel like? We find the simplified installation and upgrade processes very interesting – above all the new dashboards, which make developments directly on the platform much clearer.
In the breakout sessions, the exchange of experiences was very important. Discussions then developed on a given topic, for example on containerisation and Java. The deep dive into OpenShift installation and the session on capacity management were especially popular. Overall, the programme was very flexible as the participants had been able to suggest their own topics during registration.
Practical case at Porsche Informatik
As the host, it was only natural that Porsche Informatik would give a keynote presentation. Our colleague, Johannes Grumböck, who really has the best insight into our infrastructure architecture, spoke about the OpenShift evolution at Porsche Informatik. He explained how we had started off in 2017, what the obstacles had been and how the growth was currently shaping up. This was of interest because here at Porsche Informatik, we now have a fairly extensive OpenShift environment that supports us in the development and operation of horizontally scalable applications.
Cloud technology has significantly improved our development processes: deployments no longer cause any downtime, new technologies can be introduced more easily and the developers work independently of the underlying infrastructure. The way infrastructure and development work together has also completely changed – and this is the secret of our success.
Tips and tricks for introducing OpenShift
Ultimately, it was only possible to introduce OpenShift technology so smoothly because we also introduced a buddy system at various levels between the two main departments involved: the Cloud Competence Team. From the "heads of" to the team leader, from the architects and engineers, a buddy from development and infrastructure work together in each case. At regular meetings, problems are discussed and common solutions are developed – rapid support at eye level.
Regular, open co-ordination between engineers and architects on the familiar problems in the cloud also helped us make good progress. And our monthly "Office Hour", a round of talks by DevOps for DevOps, is even recorded and archived for later learning opportunities. This has allowed us bring a new culture of co-operation into the different teams and to tear down the wall between Dev and Ops.
These are our lessons learned
We are increasingly knowledgeable about what works well and what technologies are not suitable for cloud and micro services. Using one cluster for everything is insufficient for our requirements. Things run better when we divide the workload onto multiple clusters. Also, our databases in OpenShift continue to have problems because the persistent data management in the cluster is still too complex. Finally, the shared resources are not always easy to implement because there is always conflict between the infrastructure and developer's point of view. How can the teams get the resources they need and get to make optimal use of the platform – without there being too much unused capacity?
All in all, the leap into the cloud has greatly improved the time-to-market of our software products. By using OpenShift, we have now created an important technological basis for "developer enablement", but, of course, the platform also increases the pressure on our developers. Thanks to DevOps, the teams now bear greater responsibility for ensuring that everything runs on a stable basis, but both sides have found a new quality of collaboration through the cloud.
We are proud of our development, and we are very pleased that the 11th OpenShift user conference took place at Porsche Informatik! Thank you to all the industrious hands on both sides of the stage and, above all, a thank you to all our external colleagues who paid us a visit – we hope to see you at the next community event!
Until then, here is a link to watch our sessions (in German) online.