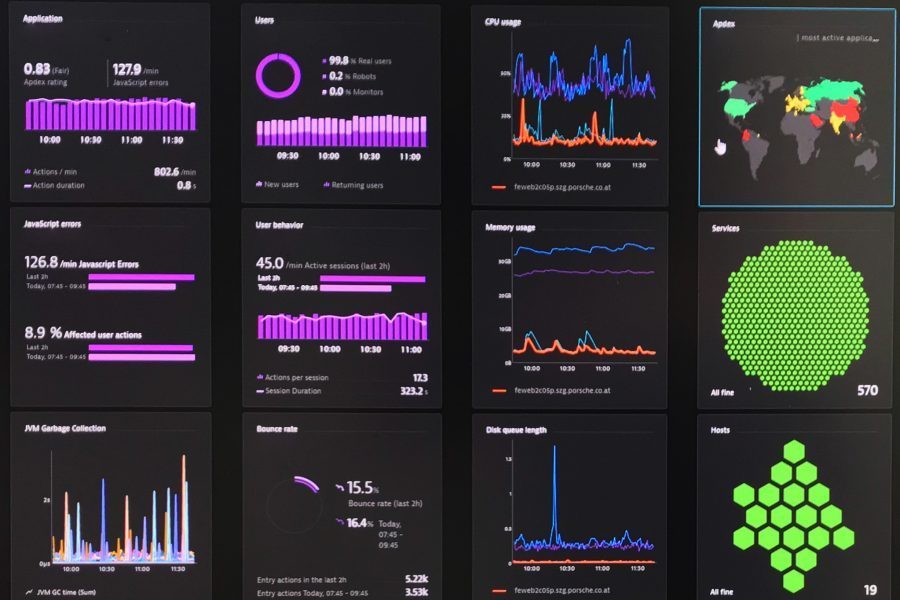 Dynatrace – a real success story
Better solutions more quickly with artificial intelligence
As a software developer, we don't work for ourselves but for our clients, of course. To find out how they are getting on with our applications and what problems they are encountering, we use a smart and modern monitoring tool. Artificial intelligence saves Dynatrace an enormous amount of time and resources, and it also helps us make our applications more efficient and powerful on a continuous basis. In this interview, Anna Buchwinkler (Team Leader Smart Dealership & Solutions) and Alexander Kaml (Product Manager Dynatrace) tell us exactly how this works.
What is Dynatrace?
Alexander: Dynatrace is an application – or a performance management tool, to be precise. It is just about the only full-stack solution on the market, i.e. the product monitors the entire infrastructure, including the applications. Monitoring tools can usually only monitor one or two things. But thanks to artificial intelligence, Dynatrace can track everything. The tool is also extremely low-maintenance, making it the best and most efficient solution for us at Porsche Informatik.
Why did you decide to start using a new monitoring tool?
Alexander: When Porsche Informatik's Strategy 4.0 was introduced just over a year and a half ago, we directed our focus on the end-user, i.e. the client. As a software developer and hoster, it was important for us to know: 'How are our clients really getting on with our applications?'
Was ist der CarAdvisor?
Anna: CarAdvisor is a car dealership rating platform for end-customers, who can use it to rate sales consultations, vehicle purchases, service appointments (e.g. for wheel changes) and other aspects. They can also rate their experience of buying a new car in terms of add-on accessories, and they can share their ratings with other customers. These ratings are then shown in CarConfigurator for the corresponding configuration items. For example: A customer buys a sound system and is very pleased with it. Once they have rated it, the information will be shown to other customers who are in the process of configuring the accessories for their own new car.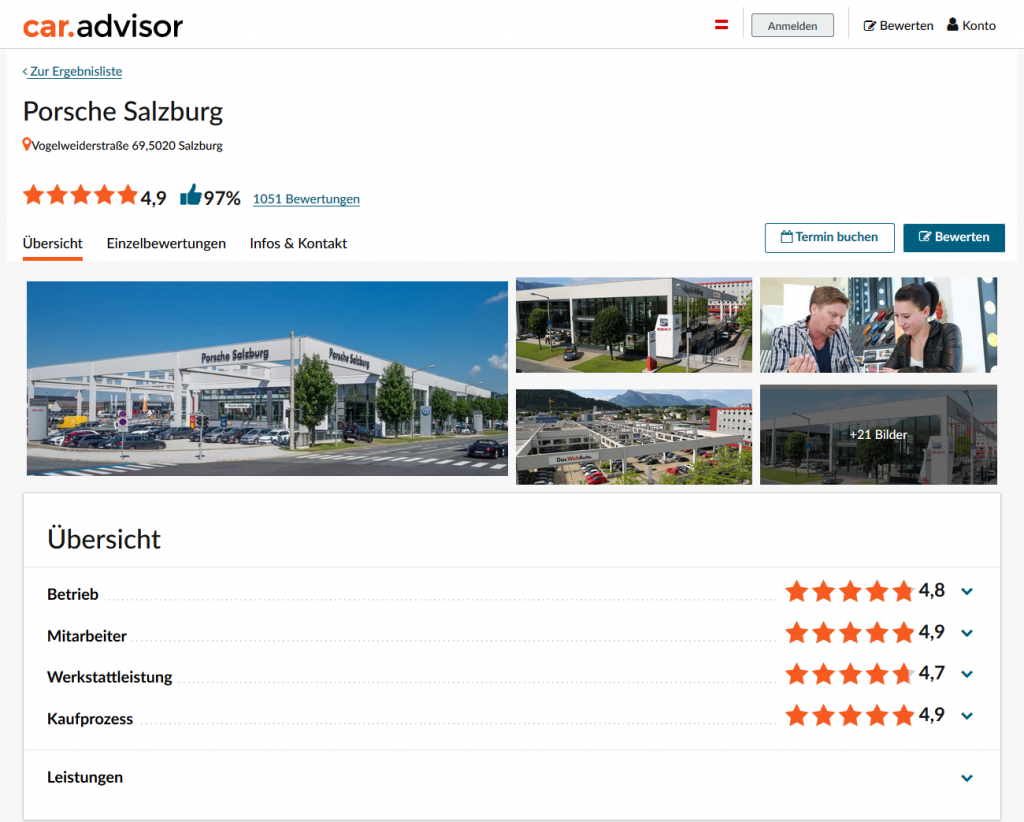 How did the CarAdvisor team and the Dynatrace team come together?
Anna: Dynatrace is a tool used for monitoring end-user applications, among other things. Because we are a software company and sell our products primarily to car dealerships and importers, we are not in direct contact with end-customers. For us as developers, it is therefore difficult to see how individual customers are getting along with our applications in the market – such as WeltAuto and CarConfigurator. Because Dynatrace monitors all end-customer applications – including CarAdvisor – it solved a problem which then brought us together.
What was the problem?
Alexander: One customer was experiencing serious performance issues when attempting to provide individual rating details for a car dealership. Via traditional means, it would have taken a long time to implement a solution, as the list of possible components and causes can be very long for performance problems – especially when the monitoring tool says that the application is OK, i.e. online and running.
What was the main difficulty you encountered with this problem and what was different about the solution?
Anna: As mentioned, performance problems can have many causes, especially when it comes to end-user applications, as the customer's personal components also need to be considered: be it their device, their internet connection, the browser or the operating system.
What is new about this solution is that Dynatrace records and analyses all user sessions anonymously, including the browser behaviour. This makes it possible to see at exactly which stage the problem occurs. But customers needn't worry about privacy – it is only possible to see the user session for this application; anything else that the customer does on their mobile device remains private, of course.
Alexander: AI-assisted analysis has saved us an enormous amount of time, since we no longer have to trawl through databases, log files, etc. This has minimised the time we need to solve a problem. We would estimate that it has cut the required time by around 80% in comparison to conventional troubleshooting.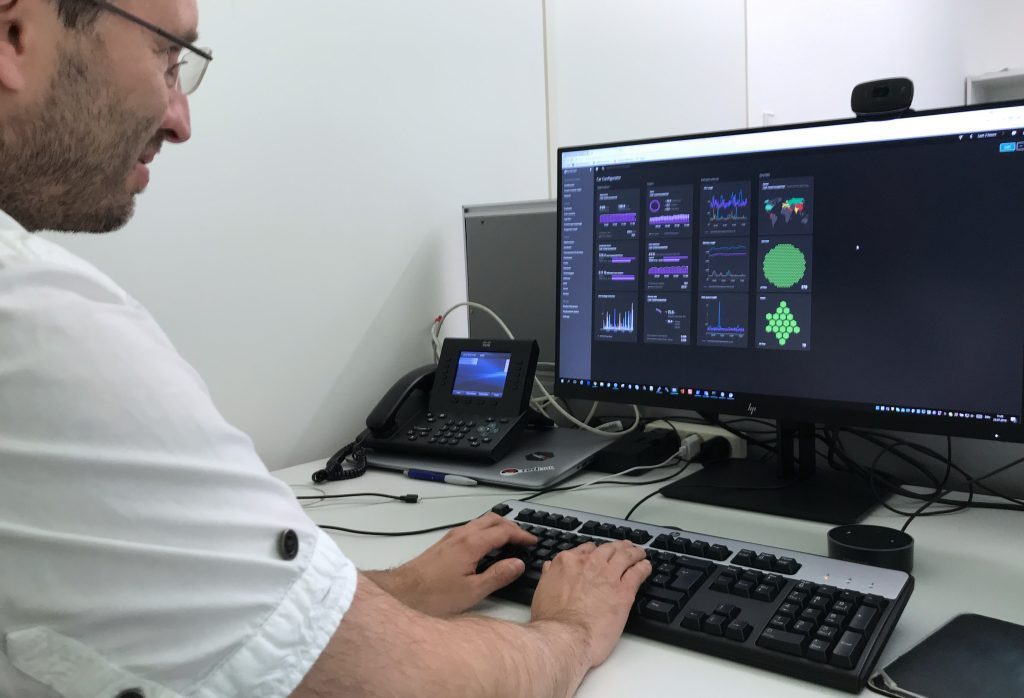 What was the breakthrough that made this solution a success story?
Anna: It wasn't really anything ground-breaking. It was more or less an everyday situation. But the perfect interaction between two teams with a perfect tool has ultimately enabled us to save a huge amount of time and manpower – and also avoid a lot of stress. Due to the fast detection and solving of problems, we were able to make the application more powerful and efficient for the customer in no time at all.
How can colleagues benefit from this success story?
Alexander: We would advise anyone in a similar situation to get in touch with us. Due to our extensive experience, we can quickly identify the issue and find a solution.
What's next? Do you already have some more potential success stories in your sights?
Alexander: Our next project is 'Auftragscockpit ', a new order application that runs in the cloud with automated deployment. It is being piloted at one of our car dealerships, where Dynatrace monitoring is already in use. The goal is fast, continuous deployment, i.e. lots of fast, minor updates that improve the application on a constant basis. Dynatrace checks the pilot without us having to tie up manpower for manual monitoring. If the tool detects a problem, it lets us know; if it doesn't find an issue, the update is completed immediately. Problems can therefore be identified more or less at the push of a button. And the cool part is that everything can be controlled via Amazon Alexa. Alexa is integrated into Dynatrace, with a dedicated Alexa skill called 'Davis'. I can use Davis to control Dynatrace and get important information incredibly quickly.
Thank you both for the interesting interview!