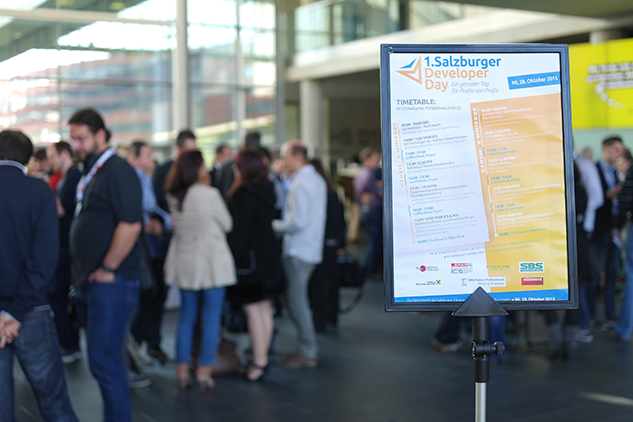 A day for software developers: great atmosphere at the first Salzburg Developer Day
With the tagline "A brilliant day, from pros, for pros" the first Salzburg Developer Day was held at the Salzburg University of Applied Sciences on Wednesday, 28th October 2015. Software developers and managers from 5 successful Salzburg IT companies – including Porsche Informatik – presented current topics to kindred spirits.

Over 150 participants were fascinated by content such as Secure Coding, GUI redesign, Antipatterns in Scrum and many more. The large range of topics was divided into two sessions and presented in parallel in two lecture halls. Participants could therefore configure the day according to their desired topics.
Approximately forty members of Porsche Informatik participated, a further five held talks on topics such as "Experiment driven continuous product development" and "Sustainable architecture management" or took to the podium to discuss the pros and cons of standard versus custom software with colleagues from Spar.
One highlight was the subsequent After Work session, which offered intensive networking that was particularly popular with students. This led to opening conversations on open positions in the IT companies at the end of the day.