Smart Summer @ Porsche Informatik
Creative and exciting IT & technology experiences
This year, Porsche Informatik participated in the Smart Summer youth initiative for the first time. This summer holiday offer for girls and boys between 12 and 16 years of age is a joint enterprise of the Salzburg Chamber of Commerce, Federation of Austrian Industry, Salzburg Research, Salzburg University of Applied Sciences, ITG Salzburg, akzente and the province of Salzburg.
Months earlier, the young IT-fans had submitted written applications to akzente Salzburg for the opportunity to gain insights into Salzburg's most successful IT companies.
On 26 July, we opened our doors for 33 young people who took part in various workshops for a morning. After the kick-off by our CEO Rainer Trischak, they completed the following IT rally:
Get2knowIT: The girls and boys got to know different roles in the software development process. With the help of a paper aeroplane, we demonstrated the difference between an agile approach and a waterfall model.
 CodeIT: Here, our guests took their first programming steps and designed an electronic memory game.
 DoIT: With the help of tablets, the IT enthusiasts got to grips with our applications – such as Online Sales. They also discovered how 360 ° images are created.
 InTo the future: The boys and girls met our apprentice and trainees, who informed them about the variety of training opportunities available at Porsche Informatik.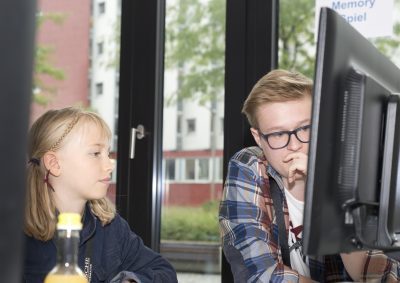 LIKES: After this varied program, the young participants awarded points, with CodeIT being voted the visitors' favourite.
Meet&Greet: The last stop of our young guests was our company cafeteria, where there was a lunch with the mentors.
The day was a lot of fun for everyone involved; Porsche Informatik is very happy to be part of the next "Smart Summer"!