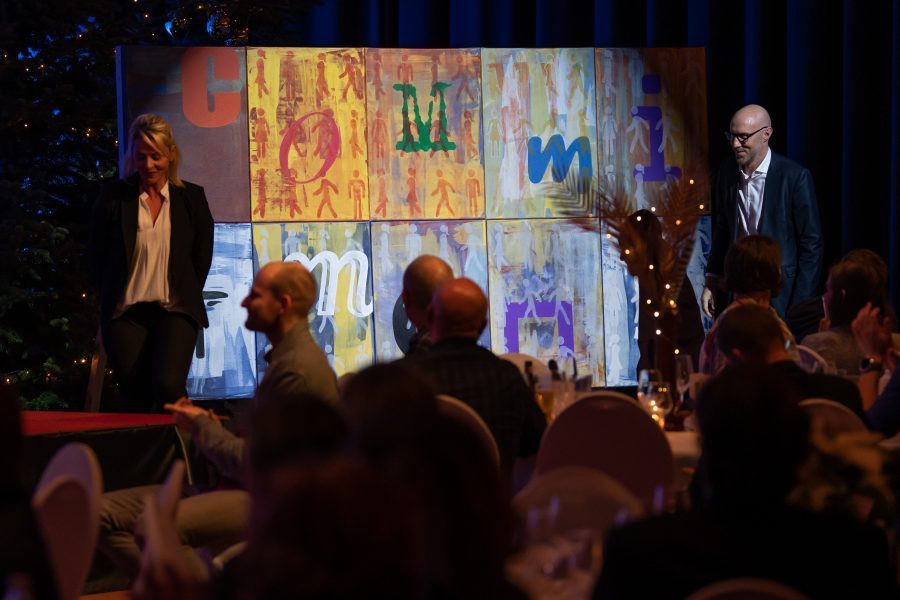 Porsche Informatik goes art, episode 2
Expressing corporate values through art
"In interaction and collaboration, people need guiding principles and values, preferably a collective self-image, rather like corporate DNA", were the opening words of CEOs Rainer Trischak and Manfred Immitzer in their eulogy. This is the second time that our guiding principles – the Porsche Informatik DNA – have been cleverly visualised by a team of creative artists from the company. When the outcomes from the second art workshop were presented at the company Christmas event they prompted loud applause, and they now grace our office building. A third workshop is currently in the planning phase.
Making our corporate values physically visible
As part of Porsche Informatik's strategic reorientation, we have redefined our mission statement and corporate values. To communicate and disseminate those values more effectively, in 2017 a unique project was launched at Porsche Informatik. The goal: to use art to render our values physically visible and thereby help visualize change at the company.
Around a year ago, the Change Agents art group, headed by Salzburg artist Thomas Nowotny, held an initial workshop entitled "Change at Porsche Informatik". Forms of artistic expression were found for two ideas: the "Double Helix", our "DNA" for the origins or initial spark for our new strategic orientation; and the "Runner" as a symbol of our new, vigorous approach. The resulting pictures were presented at the annual kick-off event and since then have been a striking visual presence in the stairwell and reception area at company headquarters.
In November 2018, the Change Agents group met again at the studio for a second joint workshop focusing on "Porsche Informatik DNA". This time the four main members of the art group, Leopold Strauss, Gerald Nezerka, Ruben Blaszczyk and Michaela Alker, were joined by Friederike Jordan. Of the five Porsche Informatik values, two were chosen: "Commitment" and "Exploit opportunities" ("Chancen nutzen").
Two key components of our DNA
The only way to achieve great things is through collaboration: nobody's perfect, but a team can be! It is particularly important to be able to rely on colleagues, their promises and their commitment. Agreements must be honoured, and any changes must be handled in a timely manner. In the event of problems, it is vital to actively approach others and acknowledge one's own responsibility. Provided everyone keeps their word, individual achievements, including individual artworks, can result in a complete work of art.
More than ever, today's world is in a state of constant and ongoing change. That is particularly true of the working world. But for all those interested, change can open up new chances and possibilities. Innovation can be initiated on a small scale too, and everyone should actively make use of the available opportunities. Having the confidence to pursue new avenues and develop as a person will ultimately lead to success for the entire team and for each individual.
Those two topics were tackled jointly with Thomas Nowotny over a three-day period. Actual creation of the artworks began after lengthy preparations and several brainstorming sessions. An additional goal was to incorporate into the artworks the ideas of "diversity" and "modularity", which play a key role at Porsche Informatik.
Joint outcomes
For "Exploit opportunities" ("Chancen nutzen"), we used very strong colours, denoting the new, the unexplored and the future. Diversity is conveyed through the use of different fonts. Since we are an IT company, we used binary system imagery to represent technology. Each individual segment contains contributions from all participants, and the final picture consisting of six segments is thus a joint composition.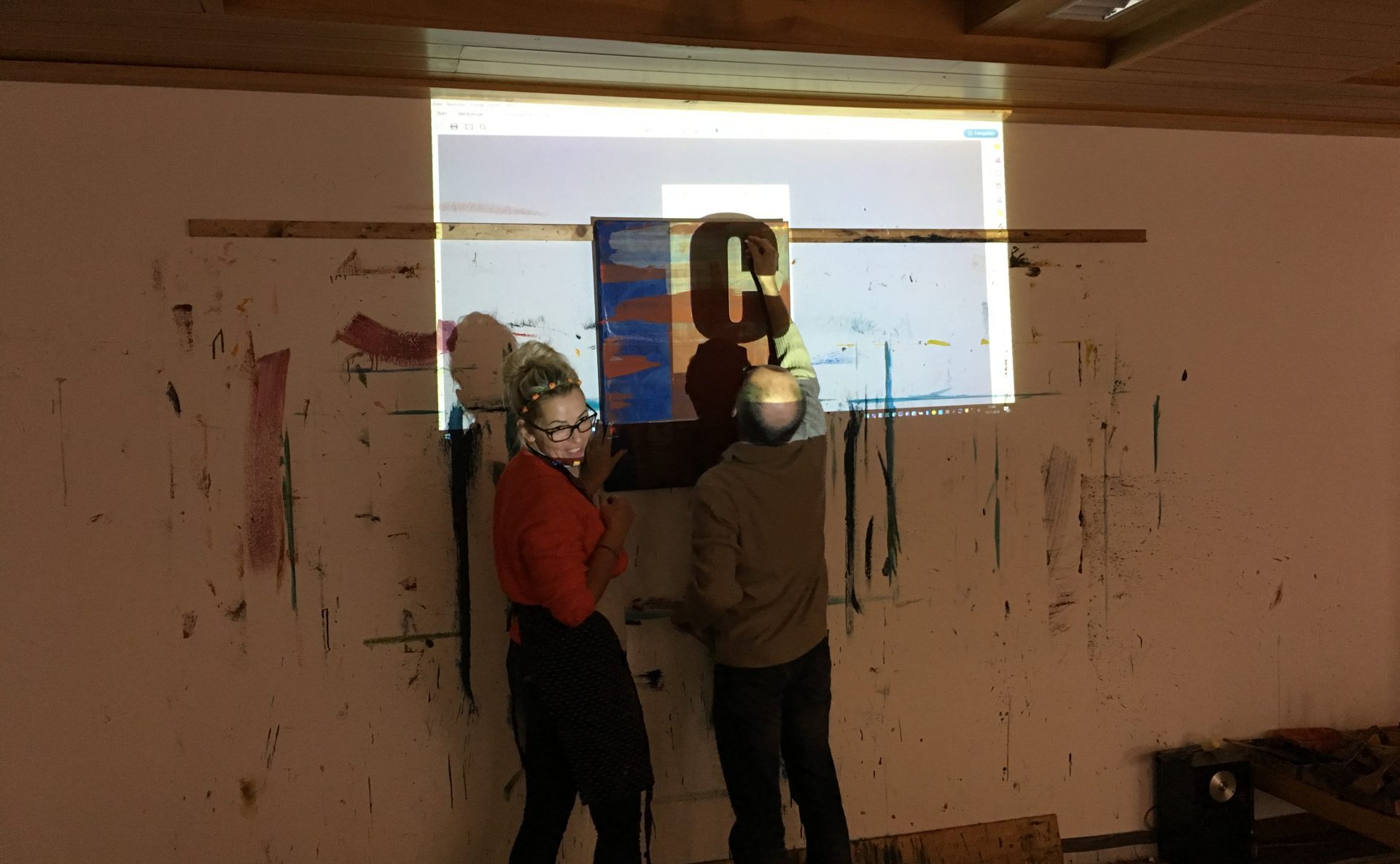 "Commitment", consisting of ten individual segments, is slightly more complex. Each participant took responsibility for creating a basic concept for two segments. After that, each participant chose two segments at random and created a letter for each of those segments. The ideas of diversity, heterogeneity and our broad range of differences were captured by rendering each letter of the word "Commitment" in a different font. Together, the ten segments form a unit, which reflects the way our commitment binds us together. The human figures function as a further connective element.
What conclusions did we draw from the workshop? Notwithstanding all our differences and contrasts, if we pull together and cooperate rather than compete with each other, if we work together rather than against each other, and if we conduct ourselves with suitable restraint and consideration for others, we can achieve remarkable things. The project as a whole was once again a memorable experience for all of us, and we are already looking forward to the next phase!